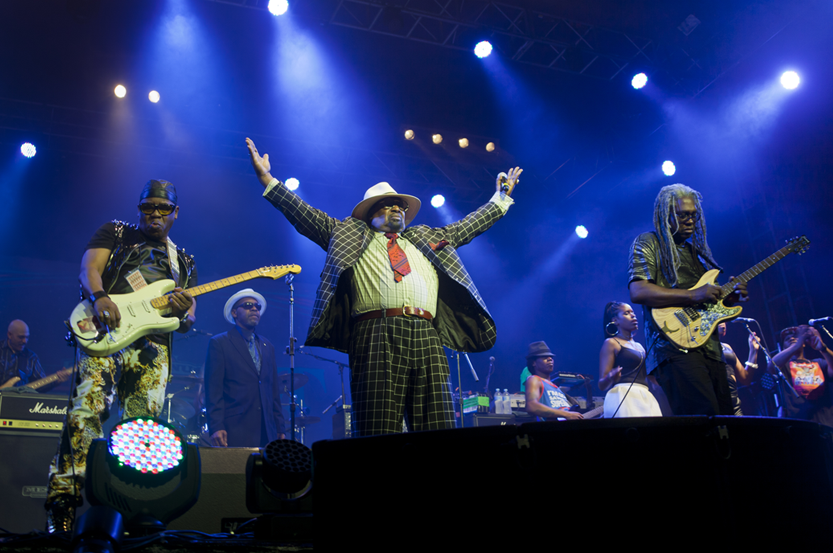 Watching a James Brown performance is an experience. The man had so much funk and soul in him that he just couldn't contain it.
He had to let out.
However, would we have been able to escape him if he wasn't backed a funky band? I think not. He would just have looked like a crazy person who shouldn't have been given a microphone.
But with funk as the backdrop, his performance makes complete sense. With such rhythm, such soul, such funk, how could it not?
We get it James. We understand.
Yet, funk guitarists are underrated. Too often, they go unnoticed as the long list of shredders steal the limelight. But guitarists are just as much part of the backbone of funk as the bass and drums.
So this one's for the great guitarists who made funk what it was (and still is).
Freddie Stone
As one of the Stone brothers in Sly & the Family Stone, Freddie helped shape the pop-funk style that gave birth to classics like "I Want to Take You Higher" and "Thank You (Falettinme Be Mice Elf Agin)".
Jimmy Nolan
James Brown was picky when it came to his band members, and Jimmy Nolan not only made the cut – he became a staple. With light chops and quick strumming, Nolan created his unique chicken scratch style. Al McKay, Nile Rodgers and George Clinton are just some of the legends influenced by Nolan. Check out "Papa's Got a Brand New Bag", "Give It Up Or Turn It A Loose", and "I Got You (I Feel Good)."
Al McKay
Already with the Ike & Tina Turner Revue, Al McKay was off to a good start. But then the left-handed guitarist joined Earth Wind & Fire and took it to the next level. Check out songs like "Shining Star" to see what I mean.
Eddie Hazel
Parliament-Funkadelic is so incredibly funky that only the very best cut it as their guitarists. Eddie Hazel was the man who tore up "Standing On The Verge Of Getting It On". On "Maggot Brain", he pulled off an amazing ten minute solo on. George Clinton told him to play like his mama just died. And he did, he did.
Tony Maiden
Speaking of solos, Tony Maiden is a name that doesn't get mentioned quite often enough. Playing for Rufus & Chaka Khan, he pulled off some amazing licks on songs like "Tell Me Something Good," "Sweet Thing" and "Once You Get Started".
Leroy "Sugarfoot" Bonner
"Funk was born the day after the blues … to take away some of the sadness of the blues. Funk is a sort of happy blues, to me." Thus spoke Leroy "Sugarfoot" Bonner of the Ohio Players. You've got to listen to "Love Rollercoaster," "Fire" and "Skin Tight." to see what he meant by that statement.
Leo Nocentelli
If you're looking to study some of the great guitar pieces in funk, "Cissy Strut" by Leo Nocentelli is not a bad start. Nocentelli contributed many an imaginative chord and syncopated rhythm to the legendary band The Meters. Hence why he still holds the title of the King of New Orleans Funk.
Nile Rodgers
Inspired by Jimmy Nolan and Wes Montgomery, Nile Rodgers became an amazing funk player before turning into a disco star. His CV includes working with the likes of Stevie Ray Vaughan, David Bowie, and, of course, Chic.
Steve Cropper
A shining example of how incredibly important guitar is to the rhythm in funk, Steve Cropper laid down some amazing riffs for Booker T & the MGs. With that as his base, he would later add the iconic fills you hear in songs like Eddie Floyd's "Knock on Wood," Sam & Dave's "Soul Man", Booker T & the MGs "Fuquawi" and Wilson Pickett's "In the Midnight Hour".
Prince 
Having recently celebrated the two year anniversary of his death in a previous blog post, Prince deserves another mention here among the greats. The album "Dirty Mind" comes to… mind. But you needn't look any further than "Kiss" to witness the slickness of Prince's precision with the axe.