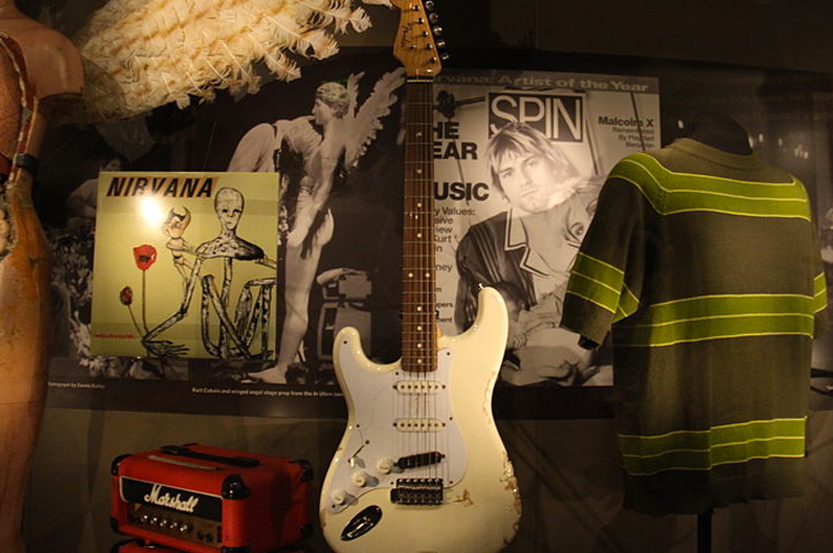 Grunge is not dead! It's been almost three decades since the heyday of '90s grunge. But, grunge bands like Nirvana, Soundgarden, Pearl Jam and Alice in Chains still have a massive impact on the rock landscape.
The likes of Kurt Cobain and Chris Cornell shaped music for a generation, and their music continues to resonate with aspiring guitarists today.
With that in mind, we thought it'd be fun to assemble a list of some of our favorite grunge riffs – the ones we think you should learn on guitar.
So grab your flannel shirt, your Super Fuzz pedal and your pawnshop Fender Mustang. Today, we're riffing Seattle style!
Here 4 Grunge riffs you need to learn:
Nirvana – "School"
There are plenty of great Nirvana riffs across their back catalogue. But, for our money, it's "School," the opener from debut album "Bleach," that takes the top spot.
Thrashed out by Kurt Cobain on a Univox Hi Flier, it's simple, effective, and heavy as hell. If you got into the Aberdeen power trio back in 1989, this monster was likely your first introduction to the band. And what an introduction it was!
Alice in Chains – "Man in the Box"
Alice in Chains' Jerry Cantrell is a certified riff master. And indeed, many of the band's classic cuts – "Them Bones," "Dam that River," "Angry Chair," could have made the list.
But, for our money, breakout Alice in Chains single "Man in the Box" is the one you need to learn when it comes to flexing your grunge guitar muscles. It's got grit, it's got stomp, it's got that grungiest of grunge staples… a talk box…
Ok, the talk box is a bit of a grunge oddity, but we'll be damned if it doesn't work.
Soundgarden – "Outshined"
Soundgarden's Kim Thayil and Chris Cornell always had a knack for coming up with end-of-the-world riffs. Y'know, the kind of thing that makes you feel like your brain is melting when you hear it.
"Outshined" – taken from the band's classic "Badmotorfinger" album is that in effect and then some. Sounding like Sabbath being played at half-speed, it's heavy, groovy and a perfect foil to Cornell's soaring rasp.
 Melvins – "Honey Bucket"
The Melvins may never have broken through to the commercial mainstream like many of their peers, but they're one of the most influential grunge acts nonetheless.
And, never let it be said that frontman King Buzzo didn't know how to write a face-melting riff. This relentless barrage – taken from the band's "Houdini" album – is about as close as the Melvins came to a making a commercial sounding record. That it hits like a sledgehammer to the face tells you pretty much everything you need to know about the Aberdeen cult heroes.
What's your favorite riff of the grunge era? And who is your favorite grunge band? Share your stories in the comments!
(Main Photo credit to Theresa Azradon-Labajo)